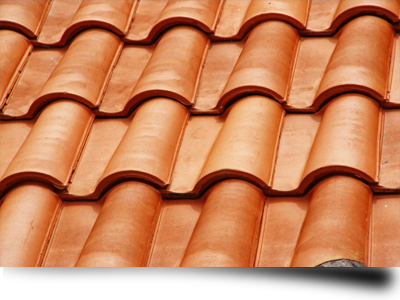 We are frequently asked why we concentrate on clay roof tiles and not a wide range of other roofing materials. Quite simply, clay roof tiles are by far a superior product for successful and durable roofing projects than any other material. Many times we have heard of projects being undertaken with concrete tiles as a means of saving some money. This practice is false economy in our opinion as concrete tiles will not last anywhere near as long as clay roof tiles. Concrete tiles do have some positive points in common with clay roof tiles, but why compromise on the quality and durability that our genuine clay roof tiles bring to your building project?
Heritage Clay Tiles Ltd source only the very finest raw clay materials for our skilled craftsmen to create beautifully handmade clay tiles of the highest quality and durability. The manufacturing processes used by our suppliers are rigorously monitored and checked continuously in the factory to ensure that their standards are strictly adhered to before undergoing further stringent tests by Ceram Building Technology.
Owing to the superior quality and durability of clay roof tiles over other building materials, more builders choose to to use clay tiles for their building projects. A good clay roof tile will enjoy a very long life and clay roof tiles come in an extremely diverse range of styles, shapes and colours, something that is definately lacking in a concrete roof tile!
Clay roof tiles have stood the test of time!
Clay has been used throughout the ages as a reliable roofing material as well as recepticals for eating and drinking. Countless historic archeological sites around the globe have produced many examples of clay and these artefacts have illustrated just how durable and long lived clay products really are. The other good thing about clay as a building material is that the material can be fashioned into tiles of many different shapes, sizes, colours, and styles.
Some other advantages of clay roof tiles over other building materials
Clay roof tiles have a proven track record for being able to effectively insulate buildings. Clay roof tiles will help to keep a building warmer during the colder months and maintaining a cooler building in the summertime. This is because clay naturally reflects the heat from the sun, which is why clay roof tiles are frequently the preferred choice of roofing material in countries that are hot for a large proportion of the year.
Another great advantage of clay roof tiles, particularly the ones with a raised profile is that they will allow varying degrees of air flow. When air is permitted to circulate above and below the clay tiles, an insulating cushion of air becomes trapped between the tiles and the roof that increases the insulating ability of the the entire roof.
Clay roof tiles are extremely durable
Apart from being a very long lived and natural product, clay roof tiles are virtually maintenance free. They just need clearing of moss and other organic deposits from time to time and although some people like to have them pressure cleaned once a year or biannually, many others like the look they take on when weathered with time. Clay roof tiles are the perfect solution for preventing insects like masonry bees from tunnelling and, as long as you use a quality clay tile, they are resistant to thermal damage from freezing and thawing.
Clay roof tile popularity soared after the Great Fire of London!
Clay roof tiles are fire proof! This fact made them very popular for a roofing material following the Great Fire of London and many other conflagrations around the world. It has also been suggested that because clay was so effective at retarding fire, the rest of many buildings began to be constructed from fired materials such as bricks. Slate and concrete also played a role in preventing the spread of fire in a building.
Clay roof tiles are also completely impervious to the types of rot, mould, and water damage that tend to destroy inferior roofing materials.
Clay roof tiles are very resistant against the elements!
Clay roof tiles will out perform any other roofing material against the effects of rain, snow, and ice. Because clay roof tiles have such a long life, it is vital that the sub roof material is sound too. Having a weak roof, or one that will allow moisture to build up and rot the wooden beams below the clay roof tiles is fatal. Rarely will the sub roof outlast the clay tiles on top! The actual roof structure must be robust enough to take the weight of the clay roof tiles, as they tend to be a little heavier than many other roofing materials. So if the existing roofing material is lighter than the replacement clay roof tiles, there's a very good chance that you will need to install additional supports before putting the clay roof tiles in place.
---
Other Articles from Heritage Clay Tiles Ltd
Bats are a superb means of natural insect control. A single tiny little bat can eat literally thousands of mosquitoes and other bugs like moths, beetles and gnats every hour. Picture sitting in your garden, becoming more anaemic with every passing minute because of the swarms of blood sucking mosquitoes, the furry little bat is the night predator that will feast on these pests.
Read more about - Bat Access Tile Accessories from Heritage Clay Tiles Ltd...
When it comes to choosing the right clay roof tiles for your property you'll want to get it right first time. The last thing you want is a colour or shade of tile that clashes with the brickwork or is out of step with closely neighbouring properties. This is where Heritage Clay Tiles Ltd come in. We have an amazing range of high quality handmade and machine made clay roof tiles that will make your building project just that little bit special.
Read more about - Create the Perfect Blend with Heritage Clay Tiles Ltd...
Heritage Clay Tiles Ltd are the leading supplier of high quality handmade and handcrafted clay roof tiles in the United Kingdom.
Heritage Clay Tiles Ltd have an enviable reputation for a high quality product range. Our clay roof tiles are manufactured using traditional skills coupled with modern kiln technology, the Heritage Tile range is second to none, offering old world character and charm, yet able to meet modern, contemporary requirements.
Read more about - Why Choose the Heritage Range of Clay Roof Tiles...
At Heritage Clay Tiles Ltd, we make a range of high quality handmade clay roof tiles. Although some of the process has been automated, we still adhere to the basic rules of hand crafting our clay tiles in a time honoured way.
Read more about - Hand Made Clay Roof Tiles...
Here at Heritage Clay Tiles Ltd, we make wide range of machine made clay roof tiles of large and small format, so that we can offer our customers our quality performance products at very competitive prices.
Read more about - Machine Made Clay Roof Tiles...
Here at Heritage Clay Tiles Ltd, we pride ourselves in the quality of our outstanding clay products. We firmly believe that you could not buy a better clay roof tile anywhere else. We stand by our company strapline, 'Yesterdays Traditions, Todays Choices, Tomorrows Heritage'.
Read more about - The History of Clay Roof Tiles...
Further Information
If you would like to know more or are interested in a quote we would be happy to help. Phone us on 01634 471 344, email us at sales@heritagetiles.co.uk and we will be in touch as soon as possible.