Conservation Peg Tile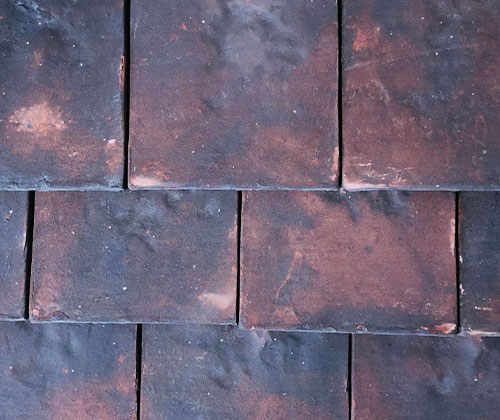 Technical Data
| | | |
| --- | --- | --- |
| Description | Roof | Vertical |
| Minimum Roof Pitch | 35° | 75° |
| Headlap (Minimum) | 65mm | 38mm |
| Batten Spacing at Maximum Gauge | 90mm | 104mm |
| Size of Tile | 250 x 150mm | 250 x 150mm |
| Covering Capacity | 66 per m² | 58 per m² |
| Cover Width | 150mm | 150mm |
| Weight as Laid | 66kg per m² | 58kg per m² |
| Battens per m² | 10m | 8.7m |
| Batten Size | 38 x 25mm | 38 x 25mm |
| Recommended Nail Type | 40 x 3.35mm Alloy Clout | 40 x 3.35mm Alloy Clout |

Conservation Peg Tiles Fixing Recommendations
Recommendations for laying and fixing Conservation Peg Tiles
Recommendations
Tiles to be laid in accordance with BS 5534
Tiles laid to be drawn from a minimum of 3 separate pallets to ensure best effect
Tiles are delivered on non returnable shroud wrapped pallets
Pallets on site should be on firm, dry and level ground, no more than 2 pallets high
Due to limitations of the print process, colours should be selected from actual samples
Introducing our Handmade Conservation Peg Tile
Available in our Conservation Dark colour for a rich and rustic appearance to allow homeowners and contractors to carry out subtle repairs or complete re-roofs for a sympathetic finish.
Returns policy
All return goods must be full unopened pallets and will be subject to a 25% restocking charge plus any haulage incurred. Goods will not be applicable for return after ninety Days from delivery date.
Further Information
If you would like to know more or are interested in a quote we would be happy to help. Phone us on 01634 471 344, email us at sales@heritagetiles.co.uk and we will be in touch as soon as possible.