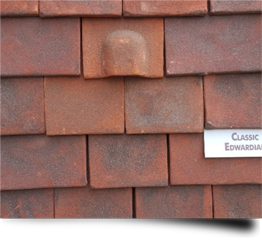 Why we should be encouraging bats into our back gardens or roof spaces?
Bats are a superb means of natural insect control. A single tiny little bat can eat literally thousands of mosquitoes and other bugs like moths, beetles and gnats every hour. Picture sitting in your garden, becoming more anaemic with every passing minute because of the swarms of blood sucking mosquitoes, the furry little bat is the night predator that will feast on these pests.
Bats are a more effective and cheaper method of pest control than nasty toxic sprays and expensive electric insect killers. Bats can be fascinating to watch as they skit around at low levels looking for their prey.
Bats will not get caught up in your hair, nor will they make a beeline for your jugular vein to drain you of blood and you won't be turned into a vampire. Bats are simply good for the environment, which is why Heritage Clay Roof Tiles Ltd have introduced our range of bat tiles to help increase their numbers.
Bats pollinate plants too
Whenever we think of pollination, we tend to think of bees, but bats do their fair share of the work too. Plants that are pollinated by bats will often have pale nocturnal flowers. Bees tend to be attracted to the more brightly coloured daytime flowers.
Bats are great seed dispersers and reforesters
Like any creature who eats seeds, some bats play a critical role in spreading these seeds to other areas. The bats digest the food that contains the seeds, they then fly off and excrete them far away from the original plant. These seed laden droppings fall to the ground and the guano acts as a superb fertiliser, which helps the seeds germinate and grow. Because bats help pollinate and disperse seeds, they play a very important role in helping regrowth after forest clearance has taken place.
These simple steps will allow you to turn your garden into a bat supporting environment
Plant night scented flowers, bees prefer the brightly coloured daytime variety
Build a pond as a huge amount of flying insects will hatch out from bodies of water
Allow your garden to grow well. Longer grass and shrubs will encourage insects and they in turn encourage more bats
Put up a bat box. Bats love somewhere safe and secure to roost
Create or maintain hedgerows or treelines
Night Scented Flowers
Bats love insects and even the tiny Pipistrelle bat can consume over 3,000 insects in a single night, so by growing night-scented flowers like Nottingham catchfly, bramble or white jasmine, you can attract moths and other nightflying insects for the bats to enjoy.
Build a pond to attract bats to your garden
Garden ponds not only look great, they have been proven to reduce stress levels in people. The movement of water and watching fish are known to calm people down considerably. Best of all, ponds will help to encourage endangered amphibians back to the garden, who eat lots of slugs and snails, but also bats.
Most flying insects emerge from bodies of water from their larval stage and the bats will graze on these freshly hatched creatures. This is great for the bats, but also a great way to reduce those pesky biting insects too.
Let your garden go a little bit wild to attract bats
Habitat piles, sowing wildflower seeds in areas of garden, as well as planting herbs and old fashioned garden annuals will boost insect populations. Larvae and adults alike will also feed on patches of your lawn that are left to grow.
Put up bat boxes to attract bats to your property
Bat boxes are artificial roosts that are designed to encourage bats into areas where there are not enough roosting sites. A bat box made from wood is pretty easy to make yourself by following a few simple instructions and if you don't fancy the DIY approach, you can opt for a ready assembled box. Different bat species need different types of spaces.
Wahtever type you go for, just make sure that there is a grooved bat ladder and a narrow entrance slit at the bottom. They can be nailed to trees or walls. Try putting up a few around the garden and facing in different directions.
Create or maintain hedgerows or treelines to attract bats to your garden
Trees and shrubs are also a good idea as they can provide both shelter and warmth to insects. Rows of bushes or trees can be created or improved to help encourage concentrations of invertebrates and provide a feeding area for bats.
Heritage Clay Tiles Ltd offer medium and dark colours for our Bat Access Tile Sets
All UK bats and their roosts are protected by law. The Wildlife and Countryside Act introduced in 1981, gave legal protection to all bat species and their roosts in England. The Conservation (Natural Habitats, etc.) Regulations 1994 as amended (most recently in 2007 and 2009 and better known as the Habitats Regulations), further strengthened this legal protection.
Bat-related offences are arrestable. The potential fine for each offence is £5,000 per bat. An offender can also be imprisoned for six months. If any property has been, or is suspected to have been, home to any number of bats, at any time, legislation requires taking advice and precautions when working on the roof. Legislation also requires provision to allow access for bats if they return.
Different species of bats prefer differing places to roost. The two most usually found species of bat in the UK are the Pipistrelle and Brown Long-Eared Bat. Pipistrelle prefer confined spaces such as under tiles on roofs and hanging spaces. The Brown Long-Eared Bat prefer roof timbers and ridges inside lofts. Heritage Clay Tiles can provide purpose made access points within your roof tiles or ridge tiles. The Bat Tile Set can form part of a mitigation package required by law for existing roosts or as potential access where a roost had not previously been present.
Available in medium and dark Heritage colours the Bat Access Set of clay roof tiles presents a bat optimised entrance to the under felt, or to the loft when the under felt is opened. For use within the roof tiles, the top tunnel tile offers the bat an 18mm high x 165mm long (approx.) tunnel to an entrance hole in the under tiles. This allows the bat to crawl into the roost area. An advantage of these tiles it provides the maximum amount of natural air flow under the tiles.
The carefully designed access, along with this air flow between the tiles and the under felt, aims to provide conditions where the bats are protected from any extremes of heat. Heritage also offer ridge tiles with a similar 18mm access cut into the ride tile side, and we can look to manufacture bespoke access tiles to your requirement.
---
Other Articles from Heritage Clay Tiles Ltd
When it comes to choosing the right clay roof tiles for your property you'll want to get it right first time. The last thing you want is a colour or shade of tile that clashes with the brickwork or is out of step with closely neighbouring properties. This is where Heritage Clay Tiles Ltd come in. We have an amazing range of high quality handmade and machine made clay roof tiles that will make your building project just that little bit special.
Read more about - Create the Perfect Blend with Heritage Clay Tiles Ltd...
Heritage Clay Tiles Ltd are the leading supplier of high quality handmade and handcrafted clay roof tiles in the United Kingdom.
Heritage Clay Tiles Ltd have an enviable reputation for a high quality product range. Our clay roof tiles are manufactured using traditional skills coupled with modern kiln technology, the Heritage Tile range is second to none, offering old world character and charm, yet able to meet modern, contemporary requirements.
Read more about - Why Choose the Heritage Range of Clay Roof Tiles...
We are frequently asked why we concentrate on clay roof tiles and not a wide range of other roofing materials. Quite simply, clay roof tiles are by far a superior product for successful and durable roofing projects than any other material. Many times we have heard of projects being undertaken with concrete tiles as a means of saving some money. This practice is false economy in our opinion as concrete tiles will not last anywhere near as long as clay roof tiles. Concrete tiles do have some positive points in common with clay roof tiles, but why compromise on the quality and durability that our genuine clay roof tiles bring to your building project?.
Read more about - Why We Use Clay Roof Tiles in Favour of Other Materials...
At Heritage Clay Tiles Ltd, we make a range of high quality handmade clay roof tiles. Although some of the process has been automated, we still adhere to the basic rules of hand crafting our clay tiles in a time honoured way.
Read more about - Hand Made Clay Roof Tiles...
Here at Heritage Clay Tiles Ltd, we make wide range of machine made clay roof tiles of large and small format, so that we can offer our customers our quality performance products at very competitive prices.
Read more about - Machine Made Clay Roof Tiles...
Here at Heritage Clay Tiles Ltd, we pride ourselves in the quality of our outstanding clay products. We firmly believe that you could not buy a better clay roof tile anywhere else. We stand by our company strapline, 'Yesterdays Traditions, Todays Choices, Tomorrows Heritage'.
Read more about - The History of Clay Roof Tiles...
Further Information
If you would like to know more or are interested in a quote we would be happy to help. Phone us on 01634 471 344, email us at sales@heritagetiles.co.uk and we will be in touch as soon as possible.