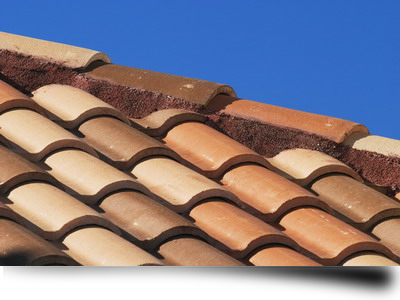 Here at Heritage Clay Tiles Ltd, we pride ourselves in the quality of our outstanding clay products. We firmly believe that you could not buy a better clay roof tile anywhere else. We stand by our company strapline, 'Yesterdays Traditions, Todays Choices, Tomorrows Heritage'.
Where did it all begin with clay roof tiles?
The first known clay roofing tile can be traced all the way back to China, around 10,000 years B.C. and the Middle East, a little later. From these two regions, the common useage of clay roof tiles spread throughout Asia and Europe.
Clay roof tiles were being used in ancient Egypt and Babylon, while the Greeks and Romans were roofing their buildings with clay tiles too. Some of the European settlers who emigrated to the new world country of America, brought this roofing tradition with them and it became well established in many parts of the States by the 17th century.
Some years ago, archeologists discovered examples of clay roofing tiles from a settlement on Roanoke Island in North Carolina dating back to 1585. Clay tiles were also known to have been used in the early English settlements of Jamestown, Virginia, and St. Marys in Maryland. Clay roofing tiles were also widely used in Spanish settlements in and around the Florida area. The french and Spanish settlers also used clay roof tiles in the New Orleans region too.
The export of clay roof tiles
Holland exported a good deal of clay roof tiles to the Dutch settlers on the east coast of America and by about 1650, there was a sizeable production of clay roof tiles going on in the upper Hudson River Valley, this factory shipped clay roof tiles to New Amsterdam.
By 1775, the time of the American Revolution, a few clay roof tile manufacturers were already in business, producing coloured and glazed clay roof tiles and a supply of the more natural terracotta clay roof tiles in and around the New York City area.
One of the things that caused a huge amount of interest in clay roof tiles around this period was their fire retardancy. Fears of a repeat of the Great fire of London, brought about the creation of building and fire codes in some of the major cities. The fire regulations that were drafted stated that the use of clay roof tiles should be actively encouraged, especially in built up and heavily occupied urban areas. Clay tile roofing was also preferred because of its durable nature, ease of maintenance, and lack of thermal conductivity.
The fire regulations didn't usually extend to areas that were outside the city designated fire districts. In such areas, most buildings used wood shingles as a roofing material. The wooden shingles were far more affordable and considerably lighter than fired clay roof tiles, and they only needed light roof frames. Another fire resistant alternative to clay roof tiles that builders started to use more was slate, and metals such as copper, iron, tinplate, zinc, and galvanized iron. Many of these metal roofing materials could be fitted at a fraction of the cost of clay roof tiles. The clay roof tile had also become quite unfashionable at this time and would remain so until the mid 19th century.
Revival of clay roof tiles
A revival of clay roof tiles came about when architects began making use of the Italian style villa designs for properties Villa style of architecture. This breathed new life into the clay roof tile industry, and soon after, a host of new factories were up and running.
Automated machines for mass producing clay roof tiles were first patented in the 1870s, and although there remained a good deal of demand for hand crafted clay roof tiles, by the 1880s a lot more factories were starting to make use of the new machines.
Clay roofing tiles took a further hit in the fashion stakes toward the end of the 19th century, but this lull didn't last very long a the clay roof tile was back in vogue by the early 20th century. With the new machines being capable of extruding clay in a variety of forms and in very large quantities, clay roof tiles became readily available to more and more people. Clay roof tile manufacturing really took off in areas that had large natural deposits of clay.
The shapes of early clay roof tiles
The most common shapes of early clay roof tiles were flat and rectangular. They had two nail or peg holes at one end through which the tiles were anchored to the roof. Sometimes a strip of cement mortar was placed between the overlapping rows of tile to stop the tiles from being lifted in very high winds. There were also interlocking S shaped pan clay roof tiles that were favourites in the 18th century. These types of clay roof tiles were formed by moulding clay over tapered sections of logs. Generally referred to as pan, crooked, or Flemish tiles, these interlocking tiles were hung on roofing lath by means of a ridge or lug located on the upper part of the underside of each clay tile. Both flat and pan tile roofs were capped at the ridge with semicircular clay ridge tiles.
So no matter what type of clay roof tile you require, Heritage Clay Tiles Ltd will have the tile you need.
---
Other Articles from Heritage Clay Tiles Ltd
Bats are a superb means of natural insect control. A single tiny little bat can eat literally thousands of mosquitoes and other bugs like moths, beetles and gnats every hour. Picture sitting in your garden, becoming more anaemic with every passing minute because of the swarms of blood sucking mosquitoes, the furry little bat is the night predator that will feast on these pests.
Read more about - Bat Access Tile Accessories from Heritage Clay Tiles Ltd...
When it comes to choosing the right clay roof tiles for your property you'll want to get it right first time. The last thing you want is a colour or shade of tile that clashes with the brickwork or is out of step with closely neighbouring properties. This is where Heritage Clay Tiles Ltd come in. We have an amazing range of high quality handmade and machine made clay roof tiles that will make your building project just that little bit special.
Read more about - Create the Perfect Blend with Heritage Clay Tiles Ltd...
Heritage Clay Tiles Ltd are the leading supplier of high quality handmade and handcrafted clay roof tiles in the United Kingdom.
Heritage Clay Tiles Ltd have an enviable reputation for a high quality product range. Our clay roof tiles are manufactured using traditional skills coupled with modern kiln technology, the Heritage Tile range is second to none, offering old world character and charm, yet able to meet modern, contemporary requirements.
Read more about - Why Choose the Heritage Range of Clay Roof Tiles...
We are frequently asked why we concentrate on clay roof tiles and not a wide range of other roofing materials. Quite simply, clay roof tiles are by far a superior product for successful and durable roofing projects than any other material. Many times we have heard of projects being undertaken with concrete tiles as a means of saving some money. This practice is false economy in our opinion as concrete tiles will not last anywhere near as long as clay roof tiles. Concrete tiles do have some positive points in common with clay roof tiles, but why compromise on the quality and durability that our genuine clay roof tiles bring to your building project?.
Read more about - Why We Use Clay Roof Tiles in Favour of Other Materials...
At Heritage Clay Tiles Ltd, we make a range of high quality handmade clay roof tiles. Although some of the process has been automated, we still adhere to the basic rules of hand crafting our clay tiles in a time honoured way.
Read more about - Hand Made Clay Roof Tiles...
Here at Heritage Clay Tiles Ltd, we make wide range of machine made clay roof tiles of large and small format, so that we can offer our customers our quality performance products at very competitive prices.
Read more about - Machine Made Clay Roof Tiles...
Further Information
If you would like to know more or are interested in a quote we would be happy to help. Phone us on 01634 471 344, email us at sales@heritagetiles.co.uk and we will be in touch as soon as possible.